Content Creators
With united thinking, we can change course quickly, with everyone having a clear and obvious stake in how success is measured.
Our business philosophy travels well because delivering on the client's ideal of service is what we do. Coming at it from the outside-in, we find, has universal appeal, regardless of where we set up practice. It's almost as if we satisfy a hierarchy of need thing. Check out our story about the Master of Service at Rao's – One of the gods of our philosophy.
---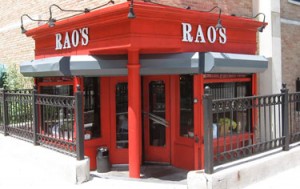 I love Rao's® restaurant. Was there very recently and enjoyed it beyond all expectation. Make no mistake, the experience was seismic, intimate as it could have been outside a bedroom – wait staff literally sits at your table, pays real attention, even looks you in the eye (it's NYC!), laughs at your jokes, all the while guiding you through your menu. Remarkably Rao's has enjoyed this ride for nearly 120 years.
Standing center stage is Frank Pellegrino, the larger than life, master of his universe. He's one of the owners and also of "Goodfellas" movie fame. A man who is preternaturally comfortable – with anyone. He finds your button and enjoys delighting you. Lucky us: He stayed at our table for hours. Such amazing, infectious, general exuberance and facility for storytelling and extensive knowledge of doo-wop, "music for the soul." At one point, he was so into the moment, he grabbed my hand and sang a Frank Sinatra tune in front of my wife and dearest friends. Mind-blowing.
The space is small, 10 tables, but overflowing with pictures of everybody big – in sports, entertainment, you name it. What gave me instant street cred that night? He found out I spent my birthday a few years back at Sinatra's Palm Springs house. Add that to the fact I was dining with a close friend of his family. What a night. It got later and later and no one noticed. From table top to bar stool, I ascended in to gastronomic heaven!
He walked us to our car late that night and allowed, not unsurprisingly, that he's "as happy as a person can be. When I wake up, I ask: 'God, what can I do for you today?' God has blessed me with so much, I welcome opportunities to give back."
So in a very real way, East Harlem owns Italian food. Let's note too that Rao's, as a brand, has embraced jars of "gravy" sold throughout America – "my home run," as Frank refers to that side of his dynasty.
I mention all this about Rao's because it sits at the rare firmament of great personal experiences. The experience is not replicable. In the most positive way, it executes your senses. It delivers beyond what's preconceived in your head. You can't be there and not be intoxicated – figuratively and literally — by the care taken with the food, the music; by watching people indulge themselves; by the space and the ultimate beauty and magic of a New Yorker's old New York. One doesn't forget these things.
Its air is so rarefied it remains successful in the face unremitting change – no matter how super-instantly- connected we become, Rao's makes its bones every day in the oldest-school way: By killing pretense and keeping its promises. (On some occasions, it's alleged, when A-list celebs are in the house, Frank will confiscate all mobile devices and hold them at the bar.) Rao's essence is imbedded in the sacred tradition (experience) of sitting around a fire singing, telling stories to each other, and eating like fools – the very experiences that makes us all happy campers.
The Rise Of A New Comms Consultancy
There is a new company, my public relations/communications company, living under the MaxAscent™ LLC brand. At its heart is a Frank-like, down-right eccentric, preoccupation with getting the small things, the basics, properly squared away before setting out to take on the big stuff (fewer self-inflicted wounds that way!). Where does research lead us? What does our collective gut instinct tell us? Have the right questions been asked? Have we talked to the people who matter? What's hot, trending, sustainable and worth investing in? Who's owning impact and influence? In the end: How do we deliver on memorable, relevant and lasting?
One of Frank's basics is virgin vs. non-virgin olive oil. Years of experience proves that one sautés garlic better. And because Frank's hand is into everything, there are no smudges on wine glasses – or the jukebox.
MaxAscent™ aspires to embrace and understand the passions of the audiences it's trying to connect to. The challenge is to see, hear and learn in real time but be ever mindful that you'll never really know, with resounding authority, all shapes and sizes of data. There are too many places to visit – that's why we're not averse to taking risks – highest yields come to our partners who are willing to "chance" change.
Be mindful of the fact that Rao's gravy was never an assured win.
We stand as the safe haven for thinker-doers who understand the Now and want to help our clients manage and take advantage – maximally — of the most cosmically interesting communications times ever. There has never been a more daunting, fulfilling, expansive and fast-moving communications environment. Never has there been so many opportunities for healthcare companies to learn about their audiences and for audiences to come to respect and support a company's products, embrace a company's personality. There is no leeway for words that are not in sync with deeds. It's about building vibrancy – having a vision of the future and claiming a path forward. MaxAscent™ is home to storytellers who gain firm, real, rapid traction by exciting communities and reaffirming connections and interdependences that lead to new experiences and better understanding, an undeniable – and bankable – "passion of loyalty."
After decades, scoring a Rao's table remains the Holy Grail.
When we started Chandler Chicco Agency (CCA) 20 years ago, we aimed high but sweated a lot about the quotidian "everydayness" of the company we dreamed about being: We had no offices, no "walls," no titles – but free lunches, manicures, massages, yoga and strength training in our gym. We were adamant about blocking politics that we knew could swallow whole even larger agencies. We made it a point to have water views from our offices early on, so the outside had a salutary effect on a staff that worked tirelessly and produced tons of specific market success that not surprisingly, earned lots of overall industry acclaim for our clients. The Hudson River, believe me, can be more calming than you think. And the sunsets are awesome. The words matching our intentions were (and still are): The Freedom to See, the Power to Do. In my book, the descriptor so effectively, resoundingly, punches through the clutter and characterized us from the get-go.
Everyone had the same-size seat at the table. We were steadfast about only allowing a certain type of staff person through the door. Even the most seasoned professionals had the skill and desire to be masters of client service, with no regard for office doors or pecking order. From top to bottom, we were all account executives in our heart-of-hearts. We all worked, in those early days, to win big. And the sheer value the agency generated for our mega-star portfolio created an atmosphere of pure, sometimes magical, collaboration and partnership, a place where our clients genuinely cared about the people working on their respective businesses. They joyously attended our weddings, celebrated births and birthdays, came to barbecues, attended our legendary (some would say notorious) company parties and sent us on to better and better, ever-more challenging experiences. I'm proud of what I helped the Chandler Chicco Agency achieve but now I'm ready to meet new challenges with MaxAscent,™ my first post-CCA project.
Seeing the Road Ahead™
It should be emphasized that MaxAscent,™ as yet, is a small, private company with a single ambition: To be really good at Seeing the Road Ahead.™
We're excited about how quickly we all shared the same sense of real destiny. We can demonstrate a certain invincibility – by deploying a core group of independent strategists and brilliant tactical minds that cover the waterfront – e.g., social, PR/Ad, public affairs, internal communications, crisis/issues. This talent cuts across key geographies, including North America and Europe. As we see it, a core strength will be grassroots engagement for healthcare clients. As we see it, the ease in which we deliver makes us distinct and valued especially at a time demanding speed – that is, acceleration at the exact right rate – along with decisive action and flawless direction.
Our promise: MaxAscent™ will bring intelligence and comfort to you, our clients. We'll listen – intently. We'll make your business our business in a refreshingly earnest, diligent way. Our road maps will delight you with their clarity and transparency. We're grounded in and see reality as reality really is from multiple angles or perspectives. We're humble, hungry and well-tested. We're not over-the-top, self-preoccupied — we make every attempt to keep our people fresh and well-rested.
We're multi-specialized.
We know there are massive opportunities out there available with clients who want to enlist experienced players who deeply understand the intricacies of interconnecting constituencies; know what it means to work in a highly regulated environment; who can handle the weight of dealing sensitively with matters of life and death; who can respect the profound imperatives of privacy; who understand how to bring new science to market; who understand how to credibly and powerfully bring to life stories about family health; who know how to help consumers/clients embrace and sort through claims being made about the health benefits of foods, devices, etc.
MaxAscent™ will speak about the new days ahead. It'll follow Frank's lead about trailblazing: Keep your nose firmly planted in what you know, while coming up for air long enough to fret about what you don't. Anticipate what's around the corner. Seeing the Road Ahead™ is why Rao's opened in Las Vegas/LA and continues pleasing everybody lucky enough to snag a table. Not even Warren Buffet can "charm" his way into a seat! Read about epic battles over tables.