New Race, Fast Horses
We want to elicit a shared passion for getting things done right the first time. Tools used are research, instinct and the power of our performances. As we complete important content work, a major goal for us is to generate enthusiasm between our teams and MaxAscent clients.
---
Enterprise Caring
MAXASCENT™ IS ABOUT ACCOMPLISHING 4 RIDICULOUSLY DIFFICULT THINGS: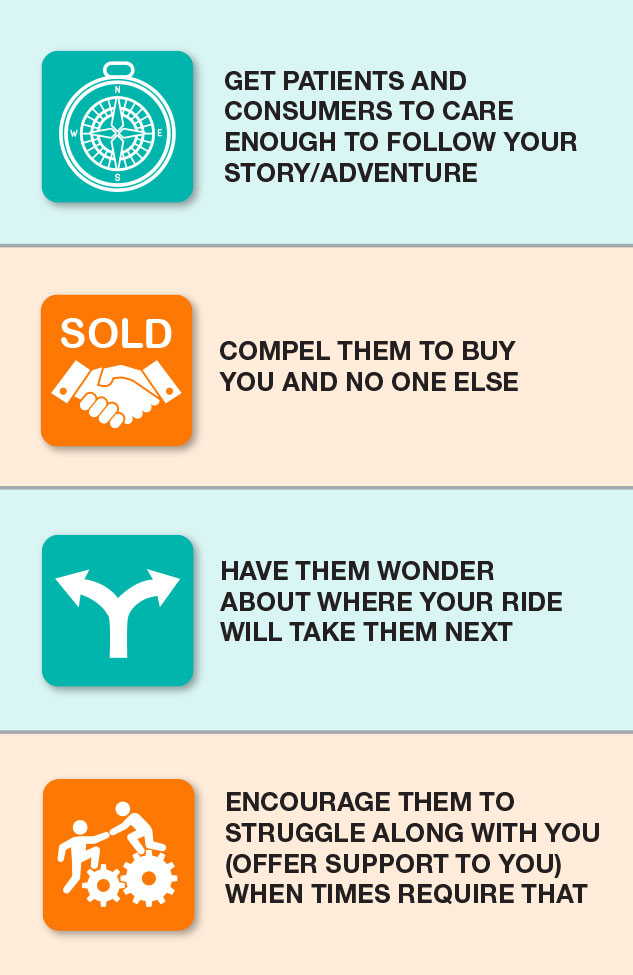 Think Apple now. Nokia back when. Netflix now. Tommy John's underwear now. Sharper Image, Kodak and Radio Shack back when. MailChimp now, GM's Corvette now. Whole Foods, Wegmans Food Markets and Starbucks now (and into the future). Sears, Martha Stewart and A&P back when. AlphaBet and Facebook now. BlackBerry back then. Miller Lite back when. Novo Nordisk, Novartis, Pfizer and Amgen now. Nike now. Shinola watches now. Leviboard Scooters now. Dollar Shave Club now. Uber, Hyperloop and Tesla now.
Active Sentinels
This is my list – and it goes on and on. All very subjective. I culled it, because no matter the number of illustrations made, the point is all these companies either now or at one point or another, have/had massive followers who care(d) greatly about them as enterprises. Customers who are – or were – active sentinels eagerly watching and waiting for the opportunity to adopt, even go considerably out of their way, to support the next big thing from their revered company "partners." The best any company or brand can hope for is to have paying customers willing to stand ready to pay again, once you launch your next chapter. (I stand tippy-toe ready for my iPhone 8.5!)
MaxAscent™ believes that seeing healthcare consumers for who they are, what they do, how they feel, how they want to feel, what the future means to them is about landing on the exact right perspective. Not rocket science. But the comms world is littered with take-offs that went squarely nowhere. Too much time in research, wrong people polled and trends identified; not enough time in research; reach and frequency not completely thought through; cool message, missed targets; cool targets, wrong message; deployment of marketing tools not calibrated properly; not enough risk taken. Again, another long list.
Diligence in Preparation
MaxAscent™ is about avoiding missteps by being diligent in comms preparation. The brand is derived from two observations: one involving drone flights and the other from deep-sea diving. A drone is often priced by how rapidly it reaches its maximum ascent. The most exotic drones ($5-25K) can travel up to at least 500 feet and cruise at 50 to 100 mph! On the other front, deep-sea divers, as a general rule of thumb, should not ascend more the 30 feet per minute, or they could suffer a life threatening condition, known as the "bends," or decompression sickness.
Obviously, in both cases, failure to perform properly can have dire consequences. But when all systems are fully functioning, at "maximum-engagement," the world is perfectly illuminated. The drone brings life into better focus – much more so than a plane traveling at greater heights. Divers are often euphoric about what they see and feel. MaxAscent™ fights for a front-row seat, seeking maximum-engagement, so we can observe how an audience consumes its world. Every day, this is where MaxAscent™ aspires to live.
Instinct and Performance
Tools used are research, instinct, and the power of our performances. We want to elicit a shared, collective passion for getting things right the first time. We want passion to flow in many directions, as we get important work done for clients. A big goal for us is to generate passion between our teams and MaxAscent™ clients.
We're about Seeing the Road Ahead,™ and thinking hard about how we can use our vast toolbox to compel consumers to get on board with us.