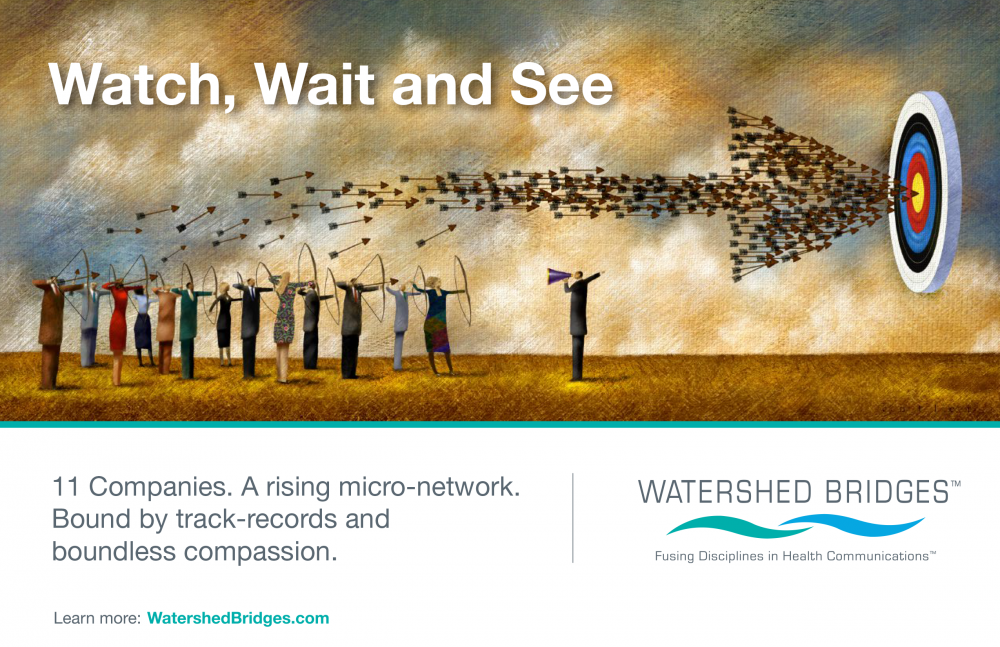 Watershed Bridges™ Membership
Fusing Disciplines in Health Communications™
That's the descriptor for our new micro-holding company. Watershed Bridges™ aligns companies actively engaged in the healthcare industry, separated only by discipline. For example, clients working with Watershed Bridges have the opportunity to tap into leading thinkers in public relations, advertising, social/digital, patient behavior, public affairs, medical education, experiential marketing, as well as the emerging field of patient intelligence.
Each member company shares its resources and pledges to support each member's business. The intent is to be geographically more represented and offer clients a wider array of services — significantly more than any one of these independent companies could do on their own. We believe our value (and uniqueness) is being able to link together veteran talent on a moments notice. Each entrepreneur-owner has decade's worth of experience and, in addition to embracing practical advantages of this arrangement, each member has signed on philosophically to follow an agreed upon conduct of business and a rational sharing of client successes.
The inaugural member list

Kristi Bridges, President and Chief Creative Officer at Sawtooth, a marketing and communications agency specializing in bringing brands and consumers together in every medium. Kristi has a relentless energy around connecting brands and their consumers and a real passion for the Health and Wellness space. So much so that she is one of the creators of I-Factor. I-Factor was designed to help brands understand today's complex consumers and today's complex media landscape. I-Factor is a dynamic tool that lets us quantify the strength of the relationship between brands and consumers in a way that has never been done with traditional research. It marries rich emotional insight with real quantifiable data. The result-consumers who are willing to spend more and share more. Learn More

Bob Chandler's latest venture into the healthcare communications space is MaxAscent LLC, a multi-specialized, multi-channel reflection of decades of highly regarded work across many star-pharma brands, in every major category, in all key global markets. Bob often is referred to a "patient empowerment pioneer" based on decades of novel initiatives that helped patients find a voice in their own treatment. His consistent leadership with infinitely talented colleagues and his perspectives, especially on providers and consumers, have earned him an enviable collection of gold stars through the years. Professionally, he's happy to be where he loves being most. Learn More

Michel Dubery, Partner, strategy and human science at wtplondon.com, specializing in brand communications centered on the latest thinking about how our minds and brains have evolved to function and how people actually think, decide and act. Learn More

Dave Emmerling is a Partner in Midnight Media Group, Inc., a video production company that has focused on the pharmaceutical industry for the past 35 years.  For the pharma industry, MMGI has produced programs including new product launches, KOL presentations, marketing programs, and education programs for patients and providers.  Dave is most proud of two series of programs he produced and directed for The Epilepsy Foundation of America and MS Nurses. Learn More

Gregory Makoul, Founder and CEO of PatientWisdom, an innovative digital platform that efficiently captures, curates, segments, and shares patient perspectives to improve the experience and delivery of care. Learn More

Guy Mastrion, Founder and Chief Creative Officer of Brandforming, a multidisciplinary creative organization with expertise in design, campaign and digital works, dedicated to the strategic creation and transformation of brands for a connected world. Learn More

Dan McIntyre is a Principal at Publick House LLC, a public affairs consultancy specializing in biopharmaceuticals and health care. He is a long-time practitioner in the art and craft of public affairs, at the point where communications, public policy and issues management intersect. Dan founded Publick House in 2015 from Biogen, where he was senior vice president of Corporate Affairs, responsible for all aspects of communication, public policy and government affairs, community relations and philanthropy. Dan has held the top global position in communications and/or public policy at Wyeth, Pharmacia, and Bayer Pharmaceutical Division, and was managing director of the health-care practices at the communication agencies Fleishman-Hillard and Hill+Knowlton Strategies. He has counseled two CEOs during their chairmanships of the pharmaceutical trade association, PhRMA, the Healthcare Institute of New Jersey and the Network for Excellence in Health Innovation(NEHI), and served on the boards of directors of NEHI and the California Life Sciences Institute (CLSA). Dan is passionate about integrated campaigns that align a consistent message to achieve clear objectives by a date certain. He lives and works by immutable rules of engagement in an open society – where communication happens in the minds of the audience, message aftertaste matters, allies are essential and functional truth carries the day. For more information, visit https://www.linkedin.com/in/daniel-mcintyre-59a5143

Vince Parry has worked on many of the most well-known corporate, franchise, service and product brands launched over the past 30 years.  He currently brings his best-in-class processes to clients of Parry Branding Group, a full-service healthcare branding consultancy, which he launched in November 2012. Learn More

Craig Rothenberg is Founder and CEO of Rothenberg Communication LLC, a communications consultancy that provides senior level strategic counsel and hands-on support to business and communication leaders across all types of organizations. He also is an adjunct professor at New York University, where he teaches graduate-level courses in Strategic and Organizational Communications. Among his consultancy's areas of focus are: Communication Strategic Planning, Reputation Management, Leadership Communication Coaching, Narrative Development, Storytelling, Employee Engagement & Alignment and Communication Org Design and Structure. More on Craig's background can be found at https://www.linkedin.com/in/craigrothenberg.

Steven Simcox, Managing Partner of Healthtalker, specializing in grassroots, word of mouth marketing for the pharmaceutical, public policy and provider sectors of the healthcare industry. Learn More

Bryan Kaye is CEO and founder of BK Digital, a multi-disciplinary Digital and Social Media consultancy born out of Marketing and Public Relations in the Pharma, Healthcare and Consumer product industries. Recognizing the challenges of integrating Digital/Social innovation and communications in traditional company settings, Bryan launched BK Digital as a catalyst to foster progressive disruption within the industry, including corporate and brand marketing teams – on both the agency and client sides – removing barriers to advancement and driving towards business results. Bryan takes pride in BK Digital as a patient and healthcare professional-focused company, working with agility to create content and find digital and social solutions that truly help and/or provide actionable value for our audiences. Coordination of technology, platforms, social listening, digital audits, insight gathering, strategy development, content planning, engagement, influencer identification, paid amplification, analytics and staying on the cutting edge of technology and trends are key tenets of BK Digital's core operating principles, allowing seamless integration and long-term, efficient collaboration across complex digital verticals. Learn More